RIDESHARE Uber, Lyft & Taxi
Colorado Convention Center RIDESHARE and Taxi Pickup and Drop off locations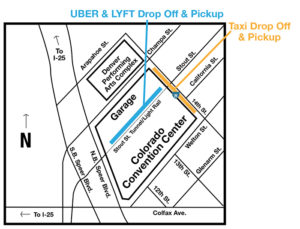 Colorado Convention Center Parking Map
---
HOTELS
 Find Hotels Near Colorado Convention Center
---
RULES
* Rules subject to change without notice. Rules subject to security discretion
NO Re-entry/Ins & Outs
NO Refunds or Exchanges
NO Sitting on Designated Dance Floor Areas
NO Moshing, Crowd Surfing or Stage Diving
NO Unauthorized/Unlicensed Vendors Allowed
NO Unauthorized Solicitations, Handbills, Sampling, Give-Aways, etc.
For your safety and the safety of others, guests and their possessions are subject to inspection as a condition of admittance.
PLEASE USE YOUR GOOD JUDGEMENT AND BRING ONLY WHAT YOU REALLY NEED. IF SOMETHING IS QUESTIONABLE, JUST DON'T BRING IT. KEEP IT SIMPLE & SAFE.
---
PROHIBITED ITEMS
* Rules subject to change without notice. Rules subject to security discretion
► Non Factory-sealed beverage/liquid filled containers (including thermoses, bota bags or wine skins)
► Outside Food or Beverages OF ANY KIND
► Alcoholic beverages, illegal drugs or drug paraphernalia
► Marijuana
► Non-Prescription Medications (Aspirin/Tylenol/ibuprofen will be available inside the venue)
► Glass bottles or aluminum/steel cans
► Laser pointers (will be confiscated & patron subject to ejection)
► Purses, Bags, or backpacks over 12" x 12"
► Audio or video recording devices, professional cameras or cameras with removable lenses (including GoPros)
► Weapons or items construed as weapons (e.g., guns, knives, sticks, fireworks)
► Bullhorns or noisemakers
► Confetti
► Glowsticks
► Pets or Animals (except service animals)
► Skateboards or inline skates
► Personal property that is a potential hazard to others (e.g., chains, wallet chains or jewelry with spiked edges)
► Opened packs of cigarettes
► Eye Drops, Aftershave, Liquid Makeup
► Un-Sealed Tampons and Maxi Pads
► Un-Sealed Chapstick and Lipgloss
► Markers, Pens or Spray Paint
► Stickers, Flyers, Banners or Posters
► Aerosol-Based Sunscreens
---
ACCEPTABLE ITEMS
* Rules subject to change without notice. Rules subject to security discretion
► Camelbacks (They MUST be empty at entry and will be inspected)
► One empty water bottle to be used at the free water stations
► Fanny Packs
► Non-Professional Flash/Still Cameras
► Cell Phones
► Sunglasses
► Hats
► Flags (No poles)
► Lighters
► Closed Packs of Cigarettes
► Sealed/Wrapped Tampons and Maxi Pads
► Earplugs
► Sealed Chapstick and Lipgloss
► Powdered Makeup
► Glowing/Illuminated Costumes or Jewelry
► Sealed Packs of Gum
► Factory Sealed Cream and Lotion-based Sunscreens
► Prescription Non-Narcotic medications only if in original container with original label (Name on the bottle must match ID)
EX: hypertension medications, asthma medications, cardiac medications, and epi pens
Only dose for that day will be allowed in
These guidelines are at security discretion
---
ADMISSION
18+
21+ For Bars
ACCEPTED FORM OF ID AS PROOF OF AGE FOR ENTRY (18+) AND BARS (21+)
Acceptable Documents – All identification must be official documents issued and sealed by a US government entity or a verifiable foreign government and contain a clear photo, description, and date of birth. Centerplate recognizes valid State issued drivers licenses from the US or state-issued identification cards from the US; valid issued drivers licenses from another government or government-issued identification cards from another government; passports from the US or another government; and US military identification cards. Each unit must comply with applicable state, provincial or local law on acceptable forms of identification.
---
TOTEM GUIDELINES
► Maximum height is 10 feet. Maximize width is 4 feet at widest point.
► Totems must be made from a lightweight material (e.g., foam, PVC / no solid metal).
► Collapsible/telescoping camera extenders that follow the above guidelines are OK (lightweight/hollow aluminum/polycarbonate).
► PVC, light wood or aluminum poles must be no thicker than 1 inch in diameter.
► Inflatables attached to totems must be deflated upon entry.
► Any item deemed dangerous will not be allowed.
► Totems deemed inappropriate will not be permitted.